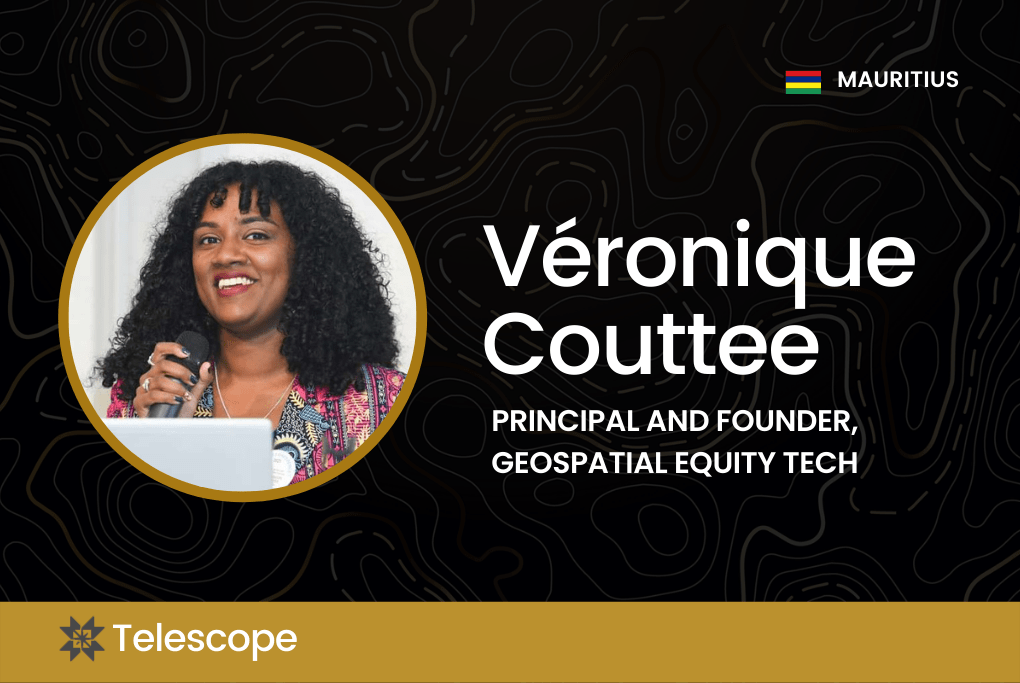 NorthStar Telescope: Meet Véronique Couttee
NorthStar Telescope is a profile series for professionals of African descent in geospatial, geography, geoscience, and GIS industries. 
What do you do in the GIS industry?
I am the Principal and Founder of Geospatial Equity Tech. 
What inspires you to be in GIS? 
My career started as a wildlife biologist on my tropical island Mauritius, in the Indian Ocean. Working in the field for several years in the Mascarene Islands and the United States, I have witnessed the rapid decline of habitats and the loss of species. This habitat loss has tremendous implications for my island and communities' ability to cope with intensifying natural catastrophes that are accompanying climate change.
Yet, this crisis is embedded in a deeper social justice crisis that is rooted in the colonial past of the island. These combined forces create a compounding and highly complex set of problems. Consequently, the solution to these problems will require a holistic approach that focuses on inclusive, equitable, and nature-based solutions.
With only 3% of the native habitat left and a plethora of endangered species, Mauritius, once the home of the Dodo bird, is heading toward an ecological crisis that can be reversed. We need to decolonize how the conservation and environmental movement operates, moving away from the western agenda by creating systems that allow us to democratize access to data and information and give indigenous people a central voice and authority in the decision-making processes.
Geospatial technology gave me the power to tell share the story of a community during a time of crisis when a disastrous oil spill happened. Yet, there is more to do. With enhanced data collection, curation, and visualization processes, I see an opportunity to capture efficiencies and foster inclusion in how policy is both made and implemented.
By democratizing access to data, and returning indigenous people their right and autonomy to influence the decision-making process, we can create real opportunities to decolonize the conservation and climate change narrative. I understand the intrinsic value of speaking my truth and reclaiming the power to heal systemic injustices inflicted on both me and my community. GIS has certainly helped me elevate and find my voice and highlight and build awareness around my skills as a Scientist with an islander's heart to strive for social and environmental impact work.
What does it mean to be a Black professional in this industry?
There are not many queer Creole women in this industry, especially from an African island, so when doubts strike my heart about my sense of belonging in this industry, I remember that I have a lot to say from my lived experiences.
Voices like mine have often been discounted at the table, but my worth & contribution should not be tied to my credentials or title, nor should anyone else. Understanding that I am enough is the first step toward empowering other historically marginalized voices to take their place in their industry.
From a technical perspective, I bring a lot to the table but it is my resilience, my truth, and the fact that I am my ancestor's wildest dream that will help me elevate others and create a sense of belonging for others in this industry.
My hope is to debunk the myth of a poor and suffering Africa to shed light on a rich diverse, vibrant continent whose people's ability to innovate and grow amidst challenges and overcome barriers is unprecedented.
Do you have any intersections in your work?
As the Principal and Founder of Geospatial Equity Tech, I support conservation programs through technology, location-intelligence strategy, and inclusive leadership strategy in vulnerable habitats. My passion lies in creating geospatial product strategies that help to elevate indigenous-led conservation efforts globally.
Leveraging my expertise as a conservationist, social scientist, and lead researcher, I also focus on the monitoring and evaluation of the social impact of conservation projects leveraging geospatial technology to streamline data collection, curation, and visualization processes. My mission is to leverage web-based geospatial technology for enhanced conservation projects with community needs and wisdom at the core of the project design and implementation.
Where do you see yourself in the future?
My hope is to create a bigger impact by sharing the design of geospatial solutions that support solutions that fights the climate crisis. I want to continue learning from diverse voices globally in the environmental justice space to help shape the work needed for social and environmental impact.
My long-term vision is the creation of an agroforestry space that integrates blockchain technology & geospatial technology as the foundation of the project. The success of this project will depend on the integration of mindfulness, self-healing & well-being that will ensure that the communities involved have a safe space to contribute to innovation & support their livelihood.
What quote inspires you?
"Until the story of the hunt is told by the lion, the tale of the hunt will always glorify the hunter." – Chinua Achebe

Connect with Véronique on LinkedIn or learn more about Véronique here.
This series celebrates the journey, inspiration, and innovation of Black professionals in GIS. Apply here to be featured in NorthStar's Telescope Series.